Looking at Trump, he said: "You made a Superman cape for me. That's my favourite superhero."
At one point, a reporter asked Trump whether West could be a future presidential candidate.
"Could very well be," Trump said.
"Only after 2024," West added.
The scene was a bit surreal, even in the Trump White House, where celebrities and other media-saturated who have embraced his campaign have gotten time in the Oval Office.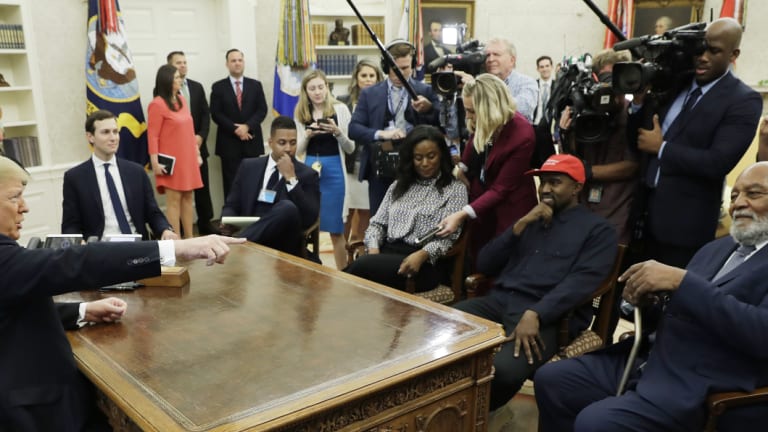 After West spoke for about 10 minutes, often showering Trump with praise, Trump himself said: "I tell you what, that was pretty impressive. That was quite something."
"It was from the soul," West said.
"I just channelled it."
Also sitting at the desk was football great Jim Brown. Trump said Brown "came out of nowhere" to help with criminal justice issues.
But the encounter veered into many more topics, most of them having to do with the administration's accomplishments.
"If you look at the employment numbers, if you look at the media, income. If you look at every single indicator, we are keeping our promises," Trump said.
West also mentioned North Korea and said, to Trump: "You stopped the war."
"Day one, solved one of his biggest problems. We solved one of the biggest problems," he added
Trump responded: "Not solved yet, but I think we're … well on our way. In a short period of time, too, a very short period of time."
Near the end of the meeting, West got up out of his chair and came around the desk to give Trump a side hug.
"I love this guy," West said.
Joining West, Trump, and Brown at the lunch were Ivanka Trump and Jared Kushner, White House advisers and Trump's daughter and son-in-law, respectively.
West said he was raising the case of a 68-year-old prisoner.
"Really, the reason why they imprisoned him is because he started doing positive for the community. He started showing that he actually had power," West said.
"So, there's theories that there's infinite amounts of universe, and there's alternate universe."
At one point, West told ABC News' Jon Karl: "I don't answer questions in simple soundbites. You are tasting a fine wine. It has multiple notes to it."
West said he was diagnosed with bipolar disorder, but a neuropsychologist said he "actually wasn't bipolar. I had sleep deprivation."
Facebook Comments